| | |
| --- | --- |
| | Ostrich |
---
This Dentzel ostrich, circa 1915, was the first animal restored by William H. Dentzel III in 1974 upon the return of an extended trip in Asia chasing down the mule and the pony who were in the process of climbing peak after peak of immense mountains on the China, India and Nepali border. Because of all his time spent gazing at bright blue and white skys and profound internal conflicts, William III painted this large flightless bird blue. Bill can now visit this special pet at his brothers hillside lodge facing Los Padres National Forest. It's not hard for him to recall some of the same feelings he had decades ago today during short brotherly pilgrimages, the only difference being that Bill now paints almost all of his rabbits blue, and thinks that is cool. The profound internal conflicts have finally surfaced in the form of a giant sized zit which he refuses to pop in the hopes that it will grow even larger and produce a better show for which he can charge more money.
Download this image in .PDF or .GIF format.
---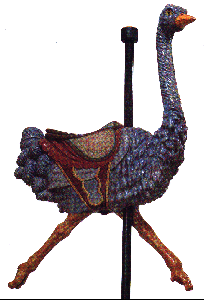 Ostrich
---
Use browser's Back Button to return to previous page.
Site Copyright © 1997-2015 by Dentzel Carousel Company