| | |
| --- | --- |
| | Rabbit |
---
This is a classic carousel rabbit done in the Dentzel style as carved by Salvatore Chernigliaro (Cherni). Cherni was one of the Dentzel's best carvers and also a very close friend of Edward Dentzel. He moved out west to Los Angeles from Philadelphia after Edward Dentzel where he lived out his long life. William H. Dentzel II met with him several times during the early 1960's, on one of these occasions he brought his young son William III. During this meeting the customary "little glass of brandy" was brought out as a token of friendship. All three men tipped their dainty glasses at once, the youngest of them, 11 or 12 years old at the time, was quite surprised at the taste and effect of that first experience with good Italian brandy. Cherni went on to show smaller carvings and drawings he had at his home while the younger Dentzel, quietly observing from the side with a smiling face, tried to conceal his dizziness.
The depth and curliness of carved fur on Dentzel rabbits varied as did the pose of the head and paws. Notice the beautiful crescent moon on this saddle. This rabbit was produced while William H. Dentzel I was managing the company circa 1915.
Download this image in .PDF or .GIF format.
---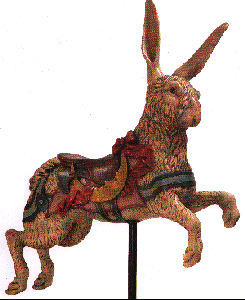 Bunny (or Rabbit or Hare)
---
Use browser's Back Button to return to previous page.
Site Copyright © 1997-2015 by Dentzel Carousel Company